Or a 250 word (or less) review of Maggie the Mechanic, The Girl from H.O.P.P.E.R.S., Perla la Loca, Penny Century, and Esperanza,
By Jaime Hernandez, Fantagraphics Books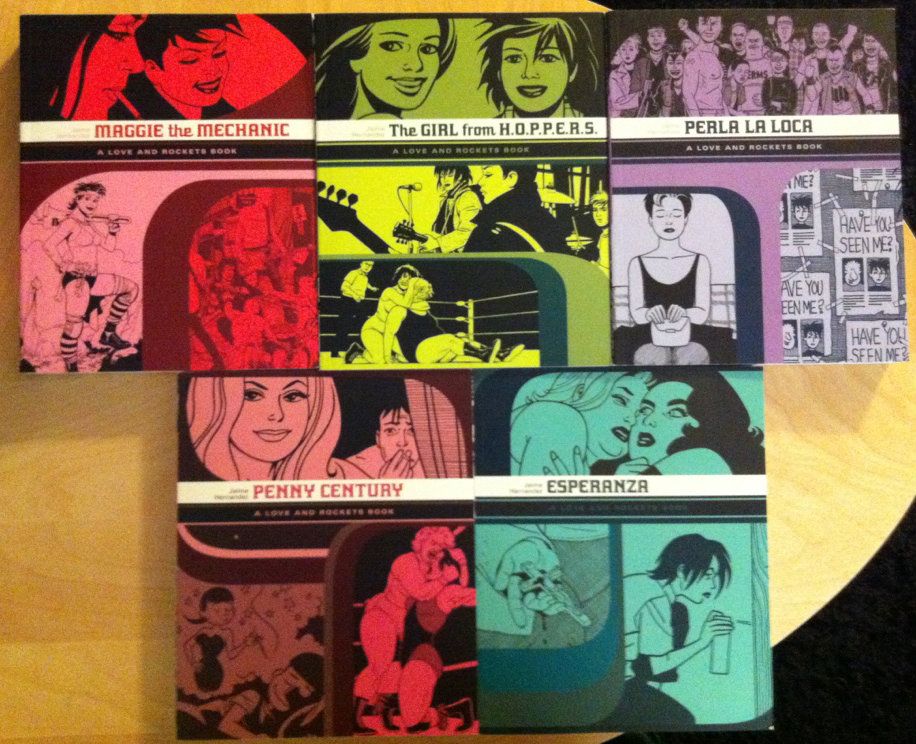 Love and Rockets is maybe the most revered comic of my favourite comics writers. And wow you guys, Jaime Hernandez's chunk of it is one amazing, strange, and difficult to explain comic. As much as one can categorize the Locas comics, I'd say these comics are about Maggie and Hopey, a couple of young punk rockers who are friends

a

nd sometime lovers growing up in the LA Hispanic punk scene. The comics follow the adventures of these young women and their colorful friends for literally THIRTY YEARS. Half a lifetime of stories where we get to watch these people grow from goofy teen punks to unsure adults as they struggle through life. It's a reading experience unlike any other I've had: it is absolutely it's own thing. T
here is a sensibility on display here that is interesting, charming, frequently hilarious, and completely outside my experience. An aesthetic that involves punk rockers, female Mexican wrestling, strippers, Barrio gangs, lesbians, and even super heroes. But an aesthetic that is always built around love and beauty and family and relationships. It's at once gloriously strange and wonderfully familiar. I think, maybe, that the real magic of the Locas comics is just how effortless and alive it feels. Love and Rockets: Locas seems less like a manufactured work of art and more of a spontaneous reality filled with unbridled humanity. It's absolutely incredible and completely the masterpiece that everyone says it is. It's a must read for everyone the slightest bit enthusiastic about comics.
Word count: 250