Or a big crazy meta interpretation of the Young Avengers
By Kieron Gillen, Jamie McKelvie, Mike Norton, and Matt Wilson; Marvel Comics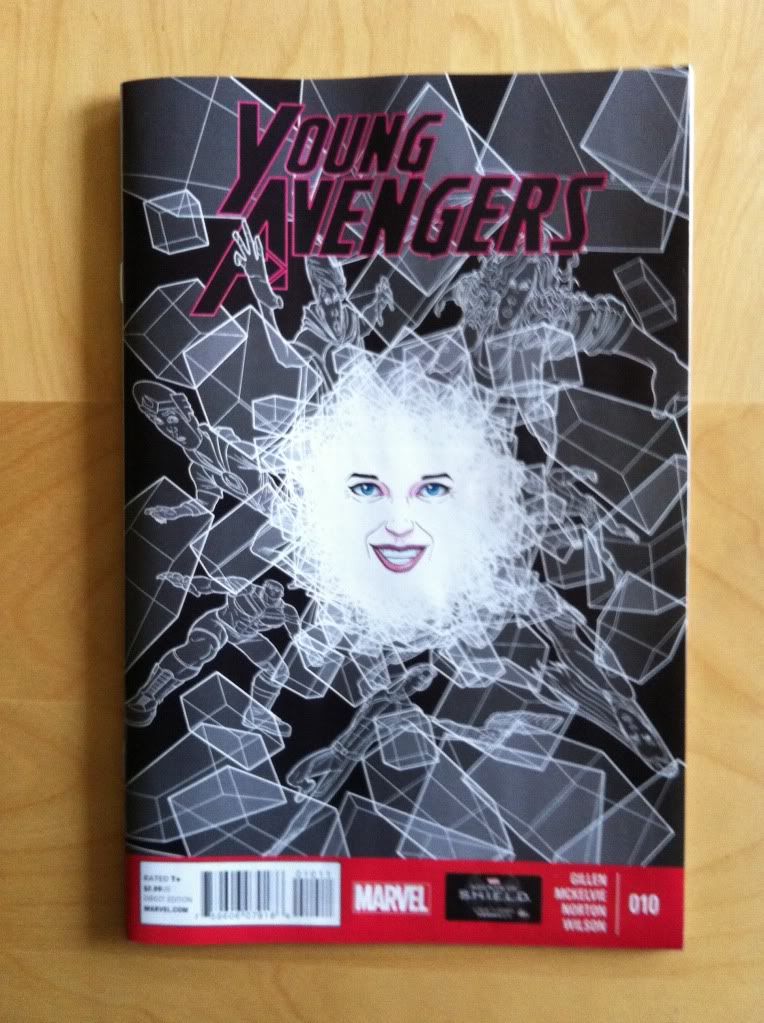 This, my crazy fan ramblings, will be built upon a tower of *SPOILERS* for Young Avengers #10 and really the series as a whole. Return here only upon reading the comic.
One of my favourite things about Young Avengers is just how experimental it has been with layout design and storytelling choices that break the boundaries and conventions of comics. For instance this opening section here, breaks the fourth wall in this really effective, really interesting way.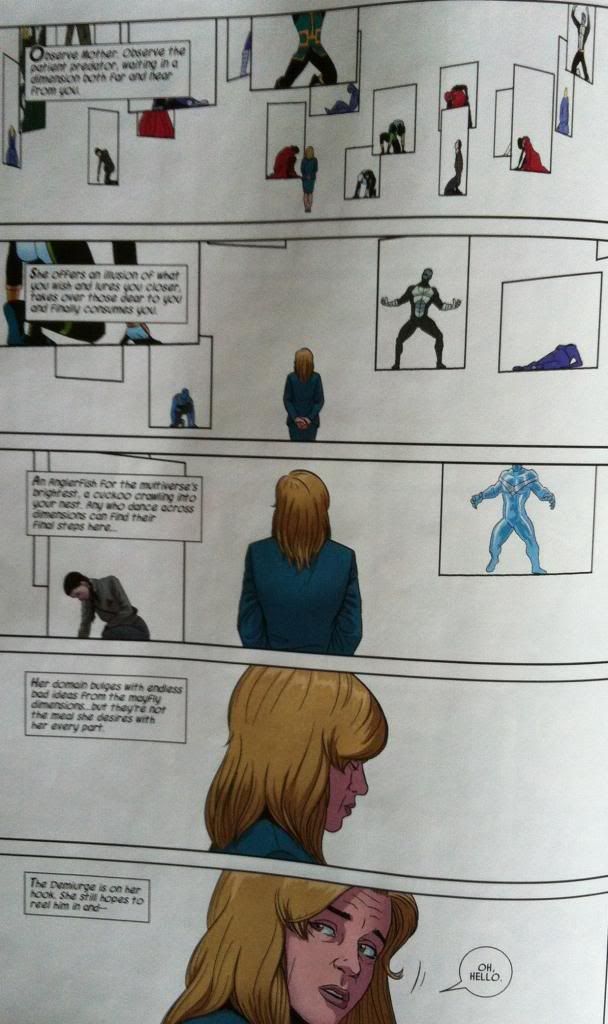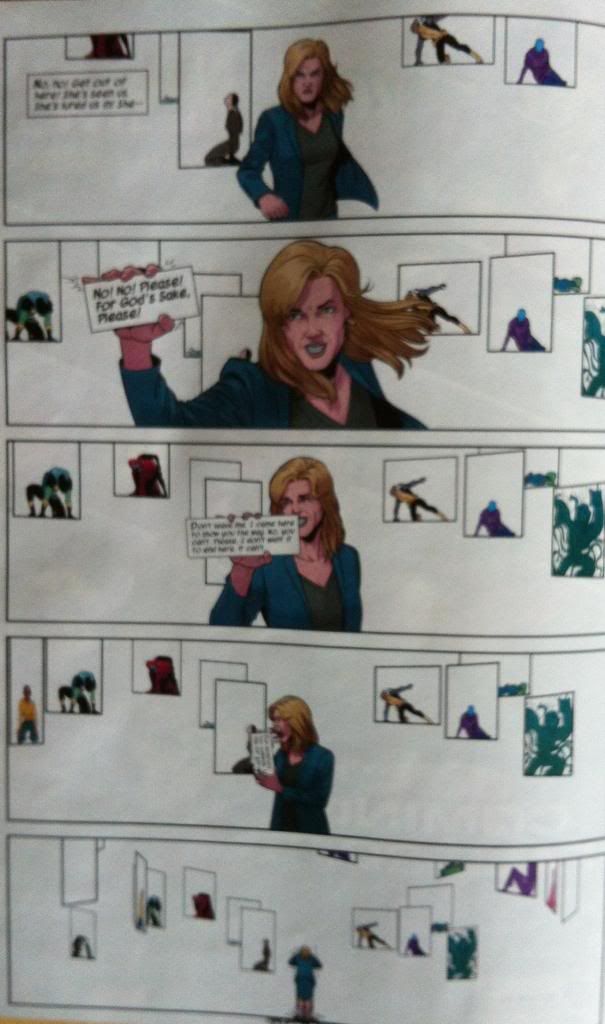 This page here, beyond being awesome and creepy, systematically tells us some really neat things about Mother, the antagonist and multidimensional parasite. Specifically, the comic frames Mother as living in her own dimension that exists in a meta-space between the comic and the audience. Part of this is that Mother's native dimension is a boxless white void, a void with the basic characteristics (white emptiness) of the gutters between panels. It's as if she lives in a dimension that exists in the spaces between panels. This seperate-from-comics nature is further emphasized by the panel-prisons of the mayfly dimension youngish avengeresques and how, arranged as they are, they appear as a comics page displayed for Mother's viewing. As if she were existing in a plane separate enough from the sequential art that she is both a participant and audience of events. And then of course she fucking reaches out, grabs the third person narration caption box, and goddamn devours it. Which would imply that Mother is able to not only reach into and manipulate the comic world but also to reach OUT into our world and effect events. This is some really fun, smart comics.
But it's also comics that crystallize a really wonky, really meta reading of the comic.
And since Young Avengers kind of begs for this kind of close reading attention and Kieron Gillen's Spirit Animal might just be a Meta-Deconstructionist Criticism I feel like this nonsense may be welcomed.
(Also, facts about Angler Fish. 1: They have a glowing bioluminescent lure with which they attract their prey to their ghastly large and fangy mouths. 2: male Angler Fish exist solely to locate female Angler Fish, merge with them, then atrophy their body down to a mere reproductive organ of the female's body. THESE ARE TERRIFYING LOVECRAFTIAN MONSTERS OF THE DEEP.)
(There are also things called IMMORTAL JELLY FISH.)
(Anyway....)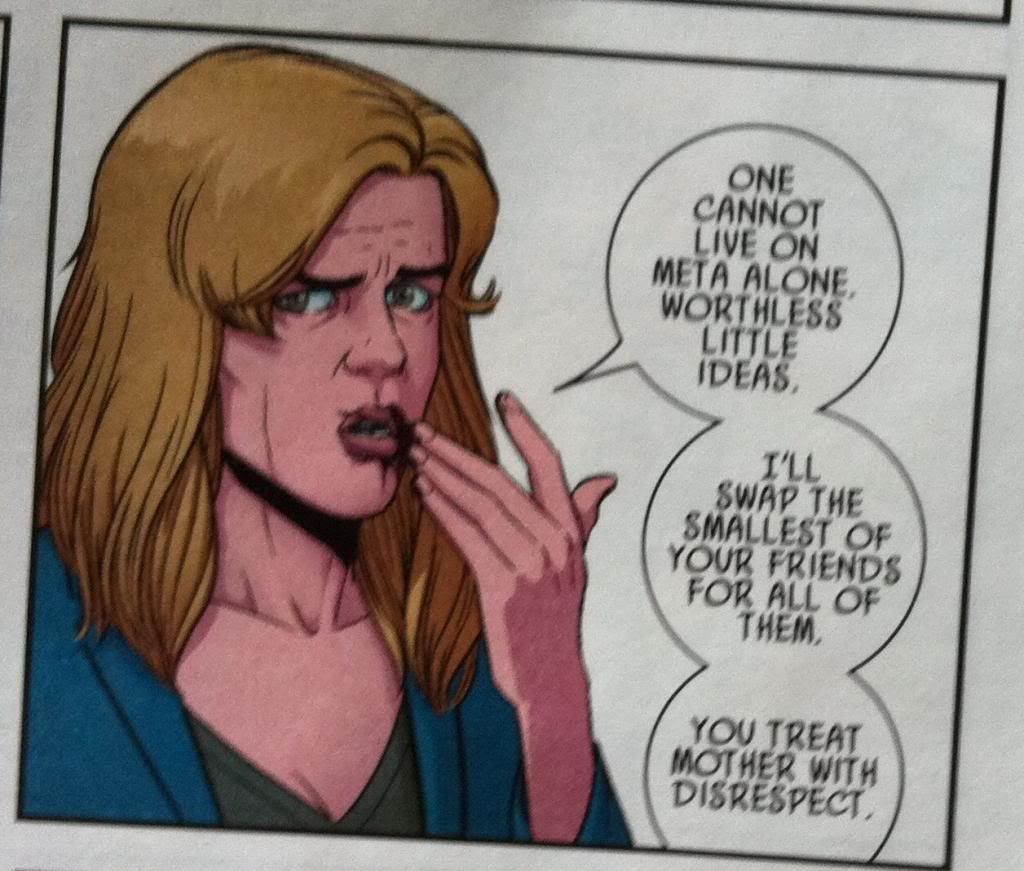 I think you could make the case that Mother could be a stand in for the audience. Basically she is a interdimensional parasite that is obsessed with controlling and consuming the Young Avengers, particularly Billy, who is essentially the protagonist of the story. Mother is both very powerful and generally impotent to directly reach into the universe and make changes and requires an intermediary (Billy/Loki) to gain access to them. She can feed on the "Mayfly Universes", themselves a horde of tumblr/cosplay/fanart/mashup memes, but is only truly satisfied by the true Young Avengers.
If Mother could be read as a comics audience than I think you could interpret Loki as a stand in for the comics creators. As is revealed in this issue, Loki has been quietly manipulating the Young Avengers for his own ends, both planting the suggestion to Billy that allowed Mother (the audience) to access the Young Avengers in the first place and bargaining with Mother to begin his plan to control the Young Avengers. Moreover, like an author, Loki is at once a member of the team, striving for the Young Avengers to succeed, but also a foe in that he is manufacturing conflict/problems for the Young Avengers for his own ends and for Mother (the audience). And ultimately, Loki is striving to control the Young Avengers for his own ends, be they power, creative, or freedom related.

One could also, I think, argue that Leah could be a negative critic of the writer. She has a clear grudge against Loki (the author) and is working with Mother (the audience) to turn Teddy (one of the Young Avengers) against him and the other Young Avengers. She also has at her disposal a group of jilted ex-romantic partners to various Young Avengers, which is like an army of former fans that are angry that the status quo has changed.
Now, if you accept all of this meta-interpretation, then the Young Avengers might be making a comment on the relationship between comics' characters, creators, critics, and audiences. A comment where comics readers are at once controlling parents and powerful alien parasites and creators are trickster gods driving characters to unpleasant ends at the behest of audiences. And critics are maybe cynical gods themselves, driven to destroy creators and comics for past slights and their own bitter amusements. Basically, Young Avengers posits a situation where audiences, creators, and critics struggle against each other for control of a comic. Which, if any of this is true, is one clever and dark little commentary built into the Young Avengers amongst all the punching and melodrama.
I really like this comic.
Previously:
Favouring The Young Avengers #8
Favouring The Young Avengers #7