Or why you should read A Fistful of Rain by Greg Rucka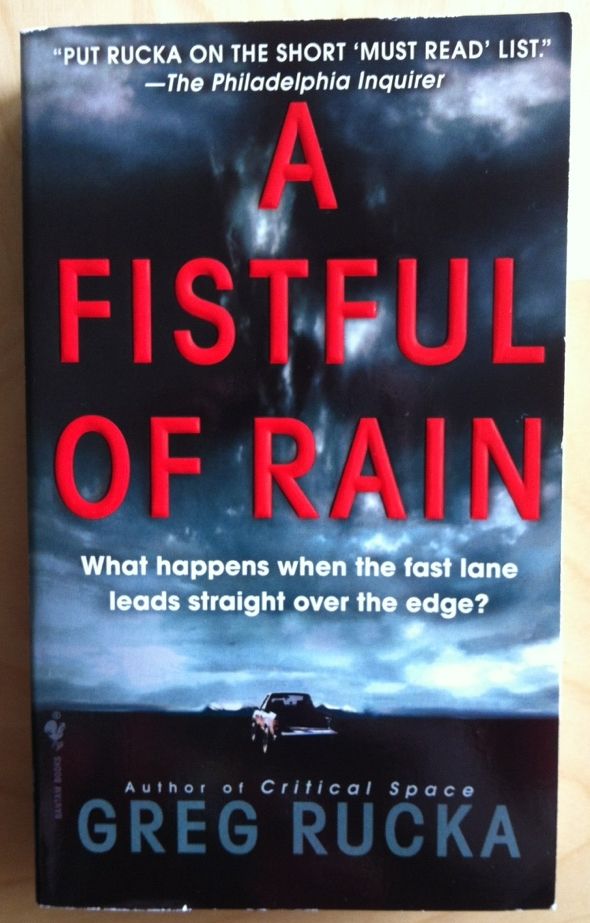 A Fistful of Rain is another emotionally guttering and thrilling novel by Greg Rucka. In it Miriam "Mim" Bracca, the lead guitarist and creative force behind popular rockband Tailhook, finds herself the target of blackmailers and criminals after her band sends her home home to get sober. Mim must discover who is out to ruin her while struggling with her drinking and coming to terms with a past as broken as she is.
According to the Wikipedias, A Fistful of Rain is a distant cousin of the other Atticus Kodiak novels and it definitely shares a great deal of common DNA. While not a straight action thriller like the Atticus Kodiak novels or a grinding Crime Noir slog like A Shooting at Midnight, A Fistful of Rain definitely delivers the lean excitement, suspense, and action of the series coupled to devastating emotional empathy. The novel is really mostly a Detective/Mytsery novel coupled to a pretty complicated character study. The plot of the novel may be who is fucking with Mim, but the real emotional core of the novel is will Mim be able to survive herself. Although, I would say both elements of the novel are executed quite well, played off each other brilliantly, and concluded in properly satisfying ways. A Fistful of Rain is overall a very well written novel.
Actually, one of the things I found most interesting about the novel is its treatment of alcoholism, especially when contrasted with A Shooting At Midnight's treatment of heroine addiction. In A Shooting At Midnight, it's more or less accepted by all of the characters that drugs are bad and that even addicts are aware of how disgusting and wrong their drug habits are. In A Fistful Of Rain, alcoholism is treated with more acceptance, more self-deception, in what I think is a really effective way. For one, I understand alcohol in a way that I will probably never understand heroine: I drink, occasionally to excess, and a few times in my life to illness. This makes me much more able to relate to the drunks in the novel, and see parallels to their behaviour in myself, which is, well, uncomfortable. What's more, the handling of alcoholism in A Fistful of Rain gives some pretty sharp insight into how people with addiction problems lie to themselves, which in a fiction-as-empathy-generator kind of way is pretty powerful. I now maybe understand alcoholics a little better, and will maybe be on a better look out for this kind of behaviour in loved ones going forward.
If you like any of Greg Rucka's other novels or comics, then you will undoubtedly enjoy A Fistful of Rain. It's a stand alone novel that delivers an exciting and interesting story that packs a literal and emotional punch, which also makes it a pretty good jumping on novel for anyone who has never tried a Rucka novel. So really, I would recommend A Fistful of Rain to just about anyone.