A 250 word (or less) review of The Five Fists of Science graphic novel
By Matt Fraction and Steven Sanders, Image Comics.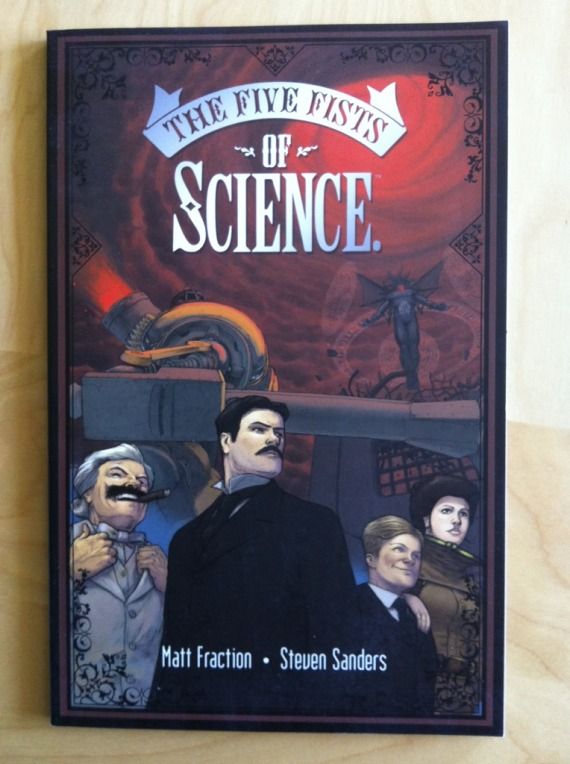 There is nothing nerdier than a comic about Nikola Tesla being a mad scientist. Unless it's a comic about Mark Twain going on an adventure to save the world with a historic scientist. Of course one could make the argument that Steampunk novels are the most geeky. Or that maybe giant fighting mecha stories are. And anything with Lovecraftian horrors has to be considered a solid contender for nerdiest. The Five Fists of Science is a comic about Mark Twain and Nikola Tesla building a giant Steampunk robot and fighting Lovecraftian horrors. It is basically a perfect storm of exceptionally geeky things and might be one of the nerdiest things I have ever read (which is saying something). It's also really well executed: Steven Sanders is an excellent artist and Matt Fraction, as ever, writes a fantastic script. The Five Fists of Science is much more intelligently crafted, much more alive and funny and thoughtful, than its ludicrous premise should allow. I enjoyed this comic far more than my skepticism and initial expectations would have suggested.
The Five Fists of Science is perfectly nerdy and brilliantly executed. So go ahead, get your geek on.