Or a 250 word (or less) review of all four Queen and Country Definitive Edition omnibuses
By Greg Rucka and Steve Rolston, Brian Hurtt, Leandro Fernandez, Jason Shawn Alexander, Carla Speed McNeil, Mike Hawthorne, Mike Norton, Chris Samnee, Antony Johnston, Christopher Mitten, and Rick Burchett; Oni Press.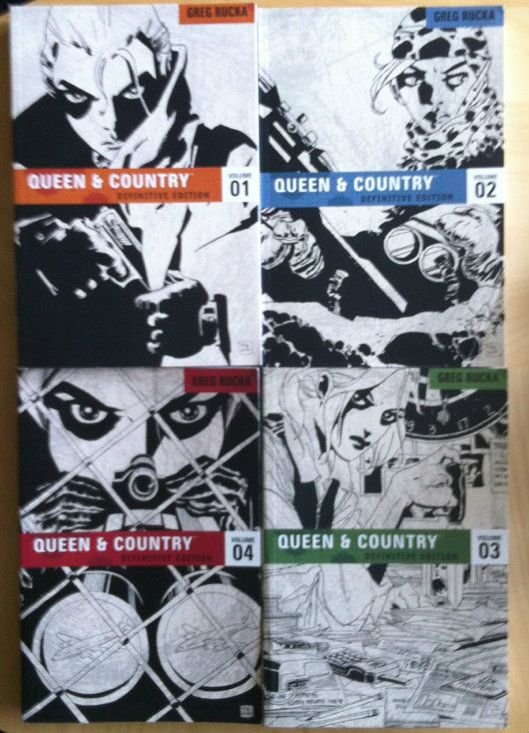 Queen and Country is basically an adeptly made espionage Thriller/Procedural. The series depicts members of the British SIS' most elite operatives, called Minders, and the extraordinary missions they are sent on for, well, Queen and Country. Which is the source of the series' thrills: the missions in Queen and Country are pretty suspenseful and exciting. Even better, the missions and portrayals of espionage in the series are fairly believable which grounds the material and increases the tension. Queen and Country also puts a great deal of emphasis on the bureaucracy, politics, and personal cost of spying. It's this procedural content that adds a layer of strong characterization and ongoing drama to the series. This adds to both the integrity of the story and the depth of the characters… which in turn feeds back into the tension. Greg Rucka, who writes nearly the complete series, is excellent and the artists who rotate to draw the various missions are all quite talented and, at the very least, competent story tellers (although your millage may vary from one to another). Overall, Queen and Country is a very skillfully produced series. There are two canonical prose novels that occur between trades where VERY IMPORTANT THINGS HAPPEN. I was unaware of this when I read the comics and regret not reading them in correct order. Be forewarned that you should probably read these books as you read the comics to get the full experience. Also: the Definitive Edition omnibuses are great value. Check the series out.