A 250 word (or less) review of the second Atomic Robo trade paperback
By Brian Clevinger and Scott Wegener, Red 5 Comics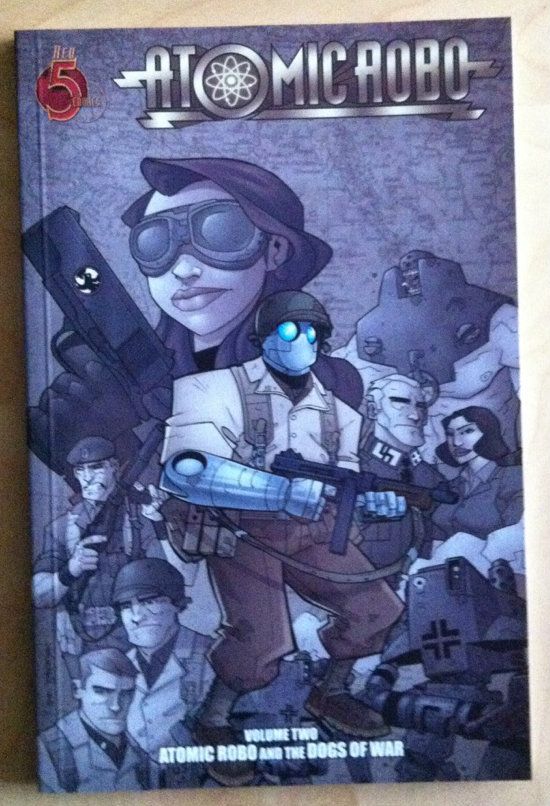 Atomic Robo is a terrifically fun adventure comic that manages to strike this perfect balance between comicky action and comedy that is just super delightful and fun to read. If you are unfamiliar with the series, the comic tells stories about the adventures of Atomic Robo, the Nicola Tesla invented robot, set in one of the many decades of his life. Atomic Robo and The Dogs Of War focuses exclusively on Robo's involvement in the Second World War fighting evil Nazi scientists and their gruesome super soldiers and Laufpanzer robot tanks. This trade feels very Indianna Jonesy, both in the swashbuckling adventure mixed with comedy sense, but also in the WW2, Nazi fighting setting. It's tremendously fun. Atomic Robo and The Dogs Of War is a much more complete narrative than the first Atomic

Robo collected volume, being more thematically and narratively

integrated

. It's also a pretty young audience friendly book (some dudes get not-so-graphically killed) and is exactly the kind of book a young version of myself would have loved: action packed, funny, and not at all condescending. I'd recommend this book to virtually anyone (of any age) who likes a funny adventure story that won't insult your intelligence. Also: one of the chapters in the book is a tribute to how awesome Scott Wegeners grandfather is, which is pretty great.